3CX Dynamic Caller ID Integration—It Just Works
March 20th, 2018
3CX Dynamic Caller ID integration makes an IT manager's job easier—from installation to management—and improves a call center's results. Your PBX isn't just a box you maintain; it's the hub of your call center's infrastructure. With 3CX, you know that setup is simple and with the management console, you have easy access to the tools you need to keep your call center running smoothly.
With our 3CX Dynamic Caller ID plugin, you can have the unbeatable Voxtelesys DCLID service integrate right into your PBX. No complicated scripts, outbound call routing rules, or tricky configurations.
Who Could It Be Now?
We've previously discussed
the challenges
facing an outbound sales team operating with an 800 number. A
survey published by Software Advice
showed that customers and leads are four times more likely to answer their phone if the call originates from a local area code, even if they don't recognize the name or the number.
What's interesting is that while most respondents were unlikely to answer the phone if they didn't recognize the number. In fact, 80% said they would be "extremely unlikely" to pick up the phone from an unidentified 800 number. The odds of converting a prospect just aren't in your favor if you're dialing from a masked, toll-free location. This is why call center managers and CIOs love local presence dialing with Dynamic Caller ID. It's a tool that gets you in the door.
If you're providing IT support for an outbound call center, you'll need Dynamic Caller ID service. Manually managing the calling rules, provisioning hundreds of numbers from multiple locations, and matching those numbers to specific campaigns would be a nightmare. You'll want a service that integrates cleanly with your 3CX PBX and is easy to set up and maintain. That's where our 3CX Dynamic Caller ID plugin comes in.
Voxtelesys 3CX Dynamic Caller ID Plugin
You don't need to get a new app developed to make API calls. There are no special scripts, overly complicated calling rules, or tricks required. After a simple setup and install process using our Voxtelesys desktop, and some easy settings changes in your 3CX dashboard, you're done. Your call list goes through the CLID process, numbers are provisioned, and then your calling rules and provisioned numbers are stored right on the 3CX PBX. The Voxtelesys Dynamic Caller ID will appear on the programmed button on the agent's IP phone and the 3CX client.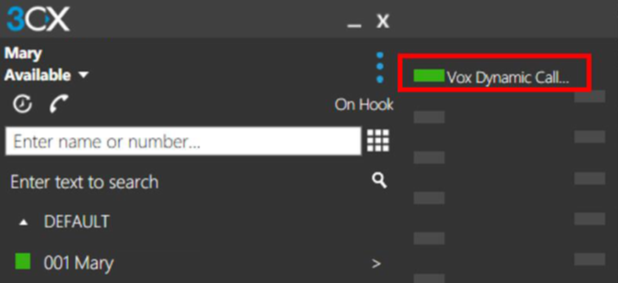 Voxtelesys 3CX Dynamic Caller ID integration is that simple. It combines the best of the built-in features of our Dynamic Caller ID service with the outbound calling functions of 3CX. After setup, your IT crew can manage both the service and the PBX without worry. That's the system you need. Simple, reliable, and easy to support.
It Just Works
It's a cliché, but "it just works" is something we all want in technology. A simple set up, friendly UI, and minimal maintenance is the IT dream—especially if users find the result easy to use. That's why you chose 3CX. It's straightforward, works on Linux, Windows, or in the cloud. That's what makes the Voxtelesys 3CX Dynamic Caller ID plugin a perfect fit for your call center.
Contact us today about our 3CX Dynamic Caller ID plugin, or our end-to-end 3CX IP PBX service. We'll help you seamlessly integrate your infrastructure with our services, our help you start from scratch, letting you control your services by campaign or even by specific outbound SIP lines. Free yourself from the burden of extra work.