3CX | Add 911 Rule
---
---
Note: This guide is for setting up 3CX Version 18, for Version 20 click here!
---
1. Log in to the 3CX Management Console
2. Select Settings
3. General
4. Add Emergency Numbers
5. Add Emergency Information
Name: 911 Rule name
Number: 911
Call from extension(s): Add in specific extensions
Call from extension group(s): Select Extension Groups
Route: Voxtelesys Trunk
Outbound Caller ID: 911 caller ID from Voxtelesys
Example of Extension Group(s):
6. View and verify created rule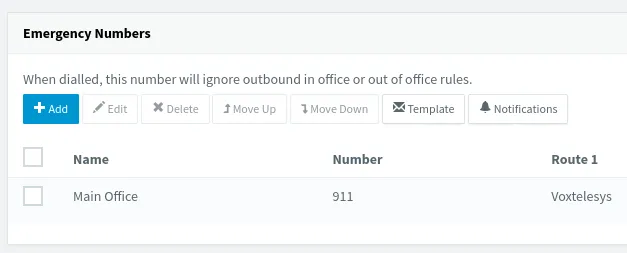 7. Add Notifications
Click Notifications
Select your notification type
---
If you need help configuring your trunk or inbound numbers check out the guides below! More Voxtelesys Portal Guides here!
For more 3CX Guides, click here