Voxtelesys Portal | DID/Number Routing
---
1. Log in to the Voxtelesys Portal
Go to https://portal.voxtelesys.net and log in:
2. Go to SIP Trunks
3. Open up DID Trunk (Origination) > Routing
Add a new route with the "+" sign.
It already has an existing route, but the new route is now available/editable.
4. Open the New Route to Edit/Add destinations
5. Edit/Add Destinations
You will be able to create the following type of routing/destinations:
Customer IP
Transfer
Registered PBX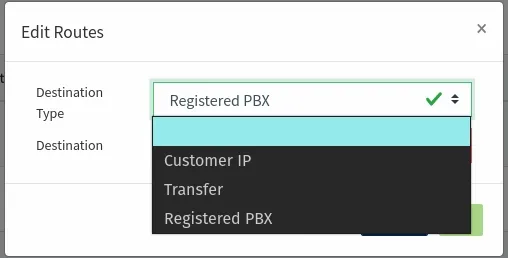 ---
Registered PBX Routing
Registered PBX routing is the most used type of routing. When you select it, you will be given a destination drop down. From this drop down, you can select from a registration associated with the account. To create a new registration/trunk see this guide (Coming soon).
Customer IP Routing
Customer IP routing is often used if the customer wants to use their static IP address rather than a registration. We do not allow dialers to use registration, as they must be static IP addresses.
Transfer Routing
Transfer routing can be used if you need your phone number transferred to an external number. This may be for an office shutdown or outage. We also offer failover routing, which you will see below.
6. Finalize your new route by clicking "OK"
---
Failover Options
---
7. Create Failover Routes
You can create multiple routes for failover options. Below you can see it is first routing to a PBX registration. If this fails, the call will go to priority 2 and transfer out to the number specified.
---
Add Routing to a DID/Number
---
1. Go to Phone Numbers > Numbers
2. Drop Down the DID/Number you want to update
3. Edit the number and select your routing type
We offer 3 different routing types:
Standard
Time of Day - Route calls based on the time of day/week (Coming in updates, but support can set up for use now)
Geographic - Route calls based on the location they are coming from (Coming in updates, but support can set up for use now)
4. Select Routing Profile
Select "Standard routing."
Then select the profile you created.
5. Verify and Test!
Check the route field for the number you modified, then send some test calls to verify it is working as expected!
---
*** If you need to buy new phone numbers, see this guide!
More Voxtelesys Portal Guides here!