Thirdlane PBX | DID & Inbound Route Setup
---
1. System Management > Telephony Settings > DIDs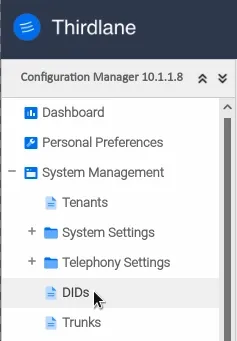 2. Add DIDs
3. Check Assigned DIDs
4. Selected Tenant Management > Call Routing > Inbound
5. Add a new Route
Select "Create Operator Managed Routes Group" or "Create Time Based Routes Group"
6. Fill in DID Routing
Select the number you want to create routing
Give the route a description
Add a route

Select the time setting
Select the route type (extension in our example)
Select the extension
6. Save
---
If you need help configuring your trunk or inbound numbers check out the guides below! More Voxtelesys Portal Guides here!
For more Thirdlane Guides, click here!