FreePBX: Teams Setup
---
Add SIP Trunk
---
1. Connectivity > Trunks
2. Select + Add Trunk
Select Add SIP (chan_pjsip) Trunk
3. General Trunk Settings
Trunk Name: Voxtelesys_Teams
Outbound CallerID: Number from Voxtelesys
Maximum Channels: Line limit from Voxtelesys
Change to the pjsip Settings tab.
4. pjsip Settings (General)
Username: From Voxtelesys
Secret: From Voxtelesys
SIP Server: From Voxtelesys
Change to the Advanced tab under pjsip Settings
5. pjsip Settings (Advanced)
Contact User: From Voxtelesys
From Domain: Same as SIP Server from Voxtelesys
Change to Codecs tab under pjsip Settings
6. pjsip Settings (Codecs)
Set the following codecs to: ulaw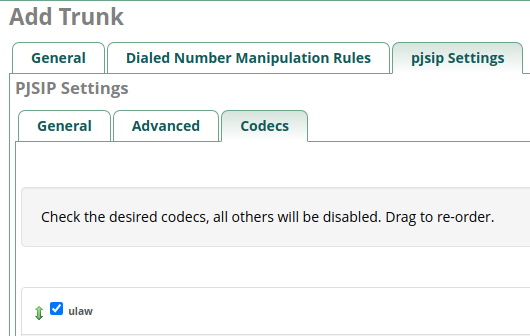 7. Submit and apply config
---
Add Outbound Route to Teams
---
1. Connectivity > Outbound Routes
2. Select + Add Outbound Route
3. General Trunk Settings
Route Name: Voxtelesys_Teams
Route CID: Number from Voxtelesys
Trunk Sequence for Matched Routes: Voxtelesys Teams Trunk
Change to the Dial Patterns tab.
4. Dial Pattern
Match the rules below:
Prefix: Your Prefix Rule to route to Teams
Match Pattern: XXXX
5. Submit and apply config
---
Add Extension and Routes to User in Teams
---
1. Log in into your Teams account via PowerShell
See guide here
2. Add Voxtelesys SBC/PSTN
If you haven't already set up your Voxtelesys SBC, please refer to these instructions.
Skip the Assign DID and Voice Routing to Users part as you will do that a little differently below.
3. Add Extension Number to User
Command:
Set-CsUser -Identity "[email protected]" -EnterpriseVoiceEnabled $true -HostedVoiceMail $true -OnPremLineURI Tel:2048
For [email protected] set the user's email that you want to assign the caller ID.
For 2048 set the user's extension number on FreePBX.
4. Grant User Access to Voice Routing Policy
Command:
Grant-CsOnlineVoiceRoutingPolicy -Identity "[email protected]" -PolicyName "voxtelesys"
5. Test calls in and out of Teams/FreePBX
From FreePBX to Teams
Dialing (Note: the prefix to route to Teams Trunk)
Calling from FreePBX
Ringing/Answering on Teams
---
From Teams to FreePBX
Dialing
Calling
Ringing on FreePBX
Answered on FreePBX
---
If you need help configuring your trunk or inbound numbers check out the guides below! More Voxtelesys Portal Guides here!
For more FreePBX Guides, click here!