FreePBX: Outbound Routes
---
---
1. Connectivity > Outbound Routes
2. Select + Add Outbound Route
3. General Trunk Settings
Route Name: Voxtelesys_OB
Route CID: Number from Voxtelesys
Trunk Sequence for Matched Routes: Voxtelesys SIP Trunk
Change to the "Dial Patterns" tab.
Dial pattern is only necessary if not set on SIP trunk.
4. Dial Pattern
Optional
Match the rules below:
Match Pattern: NXXNXXXXXX
Match Pattern: 1NXXNXXXXXX
Match Pattern: 911
Match Pattern: 922 Test dial 911 to verify address
Match Pattern: 011.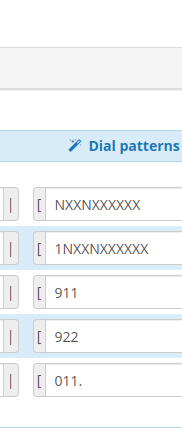 On the 911 and 922 dial patterns we put in our emergency caller ID, set up in the Voxtelesys Portal. That way, it overrides if 911 or 922 is called.
5. Submit and apply config
---
If you need help configuring your trunk or inbound numbers check out the guides below! More Voxtelesys Portal Guides here!
For more FreePBX Guides, click here!