FreePBX: IP Auth SIP Trunk Setup
---
1. Connectivity > Trunks
2. Select + Add Trunk
Add a new SIP (chan_pjsip) Trunk.
3. General Trunk Settings
Trunk Name: Voxtelesys
Outbound CallerID: Number from Voxtelesys
Maximum Channels: Line limit from Voxtelesys
Change to the "Dialed Number Manipulation Rules" tab.
4. Dialed Number Manipulation Rules
Match the rules below:
Prepend: 1 | Match Pattern: NXXNXXXXXX

Match Pattern: 1NXXNXXXXXX

Match Pattern: 911

Match Pattern: 922 Test dial 911 to verify address

Match Pattern: 011. International calling
Change to "pjsip Settings" tab.
5. pjsip Settings (General)
Authentication: None
SIP Server: IP From Voxtelesys
6. pjsip Settings (Codecs)
Set the following codecs in order:
ulaw
alaw
g729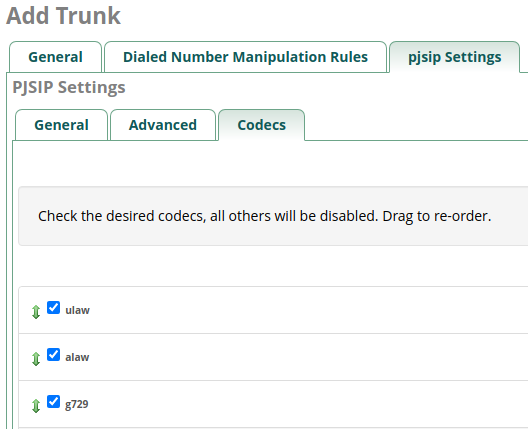 7. Submit and apply config
---
If you need help configuring your trunk or inbound numbers check out the guides below! More Voxtelesys Portal Guides here!
For more FreePBX Guides, click here!