Yeastar | Create Inbound Routes
---
---
Inbound Routes instruct your PBX on handling incoming calls from the public phone system.
The most common inbound route is sending an outside call to an extension.
What you need for this tutorial:
An Extension
A Voxtelesys Trunk
If you don't have these, contact [https://voxtelesys.com/support](Voxtelesys Support).
1. Go to Settings > Call Controls > Inbound Routes
2. Select Add
Enter the name of your choice for your inbound route.
3. Enter the ten-digit number provided by Voxtelesys in the DID Pattern Field
4. Make sure Voxtelesys is in the selected member trunk
5. You can send a call to various destinations. In this example, we will choose Extension from the drop-down menu.
6. Choose the extension where you wish to have the calls routed
7. Select Save when finished
8. If a customer dials a number that isn't covered by our inbound routes, they should be routed to the proper destination. To check this, select the Edit icon next to the Routin inbound route.
9. Change the name to fail-over
10. Leave the DID and Caller ID Patterns blank. This will ensure any calls made will apply to this route.
11. Make sure Voxtelesys is in the selected member trunk.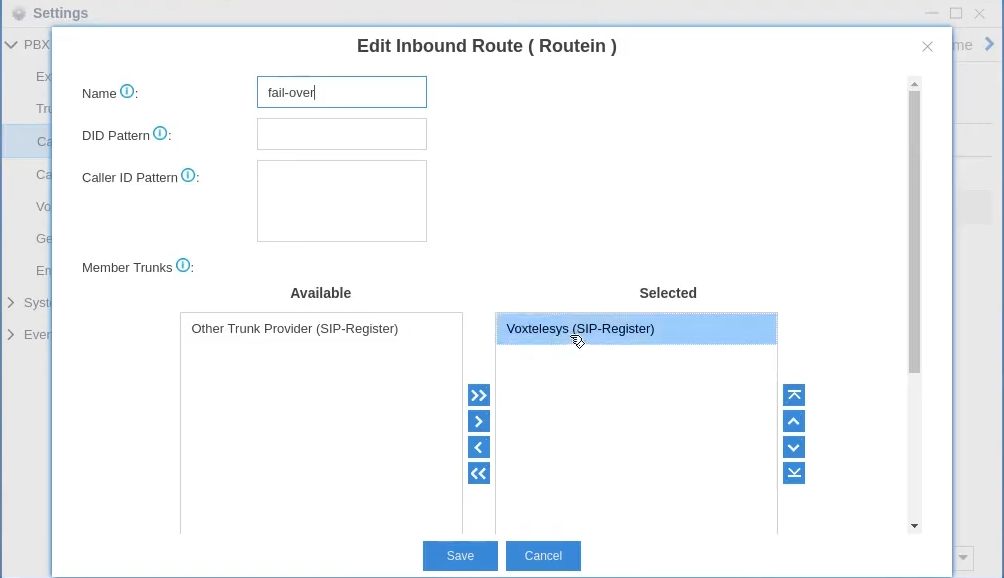 \
12. Set the destination to Ring Group
13. Select Save
14. Inbound Routes are read from top-to-bottom. Move fail-over to the bottom so the other inbound routes will be applied first.
15. Select Apply to save changes
---