3CX FREE | SIP Trunk Setup
---
---
1. Log in to 3CX FREE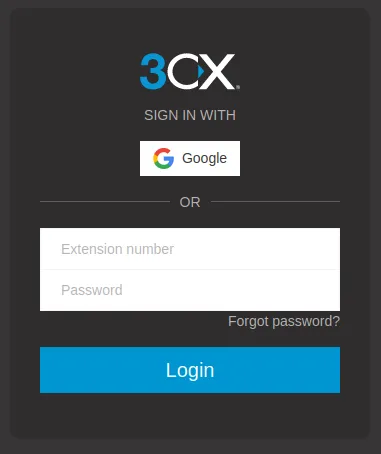 2. Navigate to the Admin Console
Click on Admin from the dashboard.
3. Select Voice & chat
Click on the Voice & chat tab.
4. Click on + Add Trunk
Click on the
button.
5. Select Voxtelesys as your SIP Trunk provider
Select either the United States or Canada from the Country drop down.
Select Voxtelesys from the Trunk drop down.
7. Fill in the Trunk Information
Name: "Voxtelesys (Voxtelesys)" or to anything you would like.
Main trunk number: Type in your phone number beginning with +1
Authentication ID (SIP User ID): Provided by Voxtelesys
Authentication password: Provided by Voxtelesys
9. Configure SMS (optional)
Click on the

tab.
Check the Enable SMS button.
10. Click on Save
Click on Save when you are finished.
11. Your Trunk is now registered!
---