3CX FREE Setup
---
---
1. Go to the 3CX FREE webpage
Go to https://www.3cx.com/phone-system/download-phone-system/ to create your 3CX FREE instance.
2. Sign up with Google or your email
3. In our example, we will sign up with Email
4. Verify with your email
A message informing you to check your email for a verification code will appear. Navigate to your email to verify.
5. Fill in your account details
First Name: Autofilled
Last Name: Autofilled
Company: Your company's name
Language: Autofilled
Country: Autofilled
Region/State: Your Region/State
Account Password: Enter your desired password used for Customer Portal and System Access
License Agreement: Checked
Click on Next when you are finished.
6. Choose your 3CX!
Select 3CX FREE:
Click on Next
7. Log in to 3CX FREE
Log in to 3CX FREE with the login information provided:
---
Additional Configurations
---
1. Navigate to 3CX Admin
2. Click on the Users tab
Click on the + Add user button.
3. Fill in User Information
First Name: Enter the user's first name.
Last Name: Enter the user's last name.
Email: Enter the user's email address.
Mobile: Enter the user's cell phone number.
Role: Set the user's role.
Outbound Caller ID: Set the Outbound Caller ID.
Assigned DID number(s): Assign the DID number or numbers.
Example of new user being added:
4. Set up Live Chat (optional)
Click on the Voice & chat tab to set up Live Chat.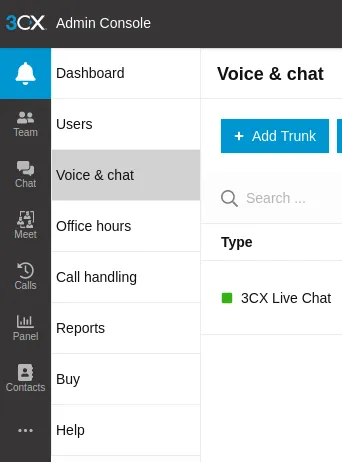 5. 3CX app (optional)
Download the 3CX app on your iOS or Android device.
---